DIRECT SOURCING FROM MANUFACTURER
Our direct relationships with manufacturers ensures competitive pricing and products that meet or exceed our clients' exacting specifications and standards.
ORDER FULFILLMENT EXPERTISE
Our 43-year record for timely delivery to clients around the globe speaks for itself.
QUALITY IS THE NAME OF OUR BUSINESS
We strive to source the best quality products at the best price available on the market, and mark our success with our clients' successes. That is why we are a supplier of choice in some of the most trying places on the planet.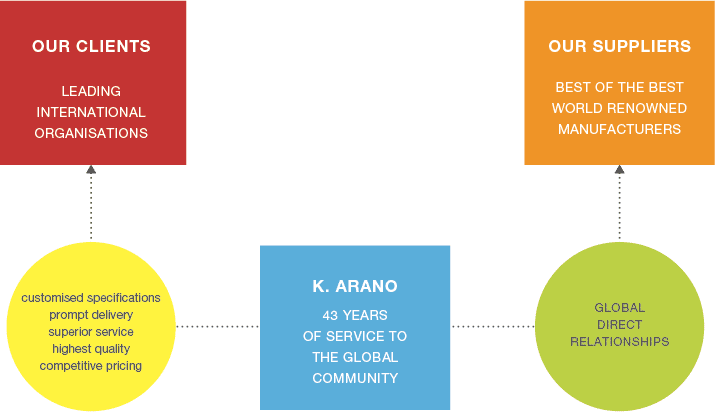 Since 1967, K. ARANO has been focused in delivering the finest industrial goods to those international locations where they are most needed. We deliver items of all sizes, from a single micro-optoelectronic device that is too small to be seen with the naked eye, to an 80-tonne crane. Our suppliers are the most trusted brands in the world. And our delivery destinations are only limited by our clients' needs.
We have delivered the finest manufactured goods to some of the most remote places on the planet. K. ARANO is not an ordinary company directed by shareholder value or revenue growth. At the core of the company's values is a drive to assist humanitarian efforts and foster the economic betterment of the developing world and global community. We work together with our clients, the United Nations, and other leading international development organisations, providing support toward their worthy endeavors for a world without poverty, hunger and military conflict.
We have supplied vehicles, generators, medical equipment, aerospace components and basic goods, such as kerosene stoves and tents, to over 100 nations worldwide. For over 40 years, we have gone wherever our clients' demands take us, and have received accolades for the quality of the products we deliver and faithful fulfillment of our orders. The quality and reliability of the products and services we provide to our clients speaks to the spirit of our company and our drive to assist our clients in the most noble cause of all: world peace. This is our ultimate mission and measure of success.
Among our proudest business accomplishments:
• Supplying a fleet of 6x6 trucks for volunteers to remove land mines in the mountains of Afghanistan, valleys of Angola and jungles of Cambodia;
• Securing water tankers to sustain Somalian refugees at camps in Dadaab;
• Delivering motorcycles for carrying food and clothing to hard-to-reach villages in Zambia;
• Providing stoves to warm Kosovo refugees in Albania,
• Equipping farmers in Tanzania with generators
Our beneficiaries list seems endless. It is their smiles, as well as the smiles of our suppliers to hearing our stories, that are the driving forces at K. ARANO. It is K. ARANO's promise that we will continue to source the best products and promptly deliver our goods in our effort to serve the global community's most pressing needs.